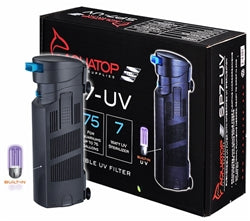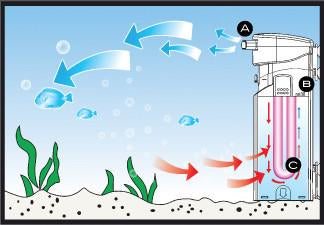 AquaTop Submersible UV Filter w/ 7W UV (SP7-UV)
For aquariums up to 75 gallons
The AquaTop Submersible Filter w/ 7W UV (SP7-UV) requires no special plumbing and is easy to use and maintain. Simply place the SP7-UV directly into your tank or sump system up to the waterline. The built in pump will draw water in, running it past the 7 watt UV bulb.

Features:
Includes 7 watt UV-C bulb
Includes suction cups for attachment to inside of aquarium
Includes replaceable filter sponge
Swivel spout for multi-directional output
Includes integrated 125 gph pump (7 watt). Water flow can be adjusted between 70 & 125 gph for various size tanks.
For fresh and saltwater aquariums up to 75 gallons
Dimensions: 10" X 3" X 2.5"