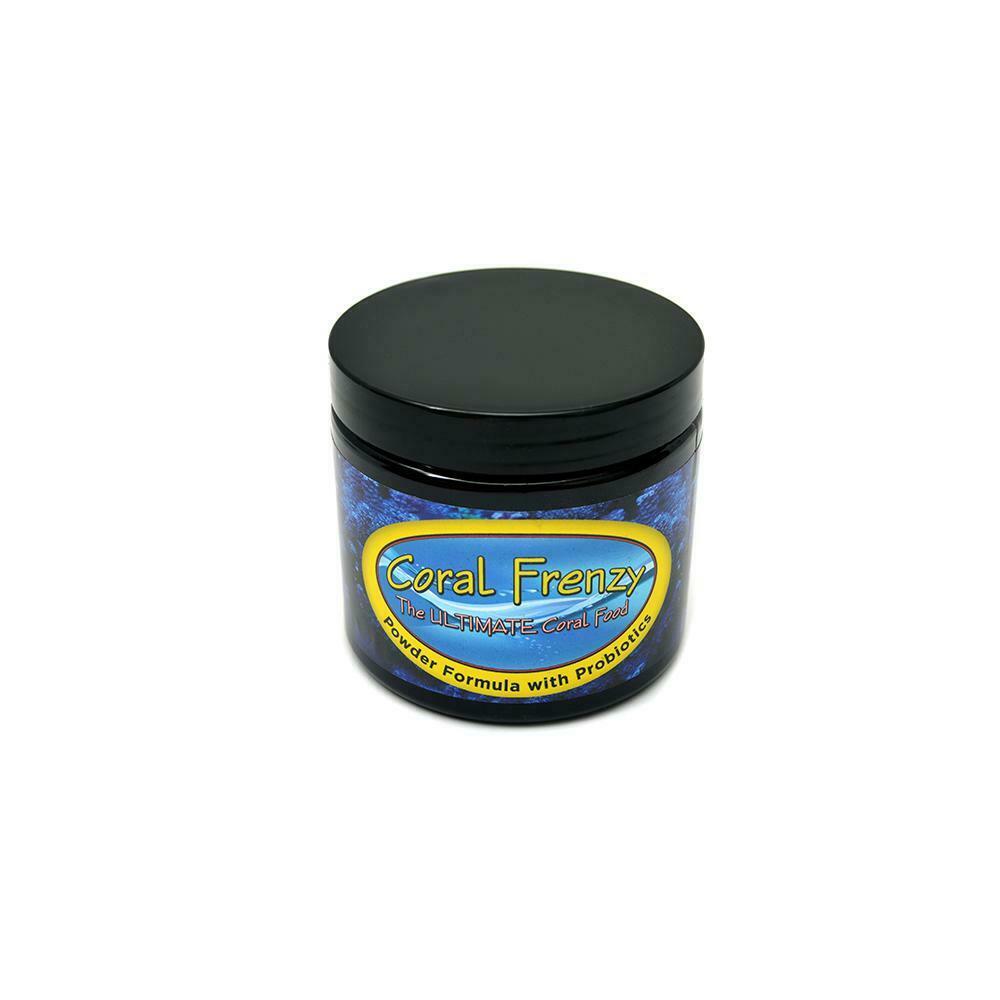 Coral Frenzy Powder With Probiotics - 45g
The ULTIMATE Coral Food now even better.  The formula has been revised for better nutrition along with the addition of probiotics to help maintain better water clarity. Coral Frenzy is the perfect alternative for those who do not have the time, discipline, or desire to feed live or frozen foods. With a long shelf life, you are assured that it will not spoil like live or frozen foods.   Additionally, probiotics have been added to the improved formulation, with the goal of helping maintain excellent water quality.
Since the beginning, every ingredient is listed on the label, so there is no question of what you are feeding. There are no "secret" ingredients or fillers; what you see is what you get. Coral Frenzy can now trace any jar of our coral food down to the minute it was manufactured, offering the maximum ability to comply with current and future animal feed laws in municipalities in the US and abroad.
PARTICLE SIZE: 53-2300 - Marine Fish Protein, Salmon Roe, Krill, Paracoccus, Schizochitrium, Arctic Copepods, Spirulina, Artemia, Rotifers, D. Salina, Probiotic blend
NUTRITIONAL ANALYSIS - Crude Protein (min) 53.7%, Crude Fat (min) 18%, Crude Fiber (max) 2.87%, Ash (max) 11.8%, Moisture (max) 6.26%, Omega 3 (min) 5.72 g/100g, Omega 6 (min) 1.02 g/100g, Omega 9 (min) 3.18 g/100gProbiotic Blend: 1,000,000 cfu/g (min) Bacillus Subtilis & Bacillus Licheniformi
FEEDING DIRECTIONS - For a 50 gal tank; Mix 1/4 tsp vigorously with a glass of aquarium water and pour into a high flow area or target feed. Feed 2X-3X a week depending on your systems needs. For best results, you should turn off your skimmer. When starting out, we recommend that you use less. How many times have you heard a company tell you to use less of their product?
The Coral Frenzy coral feeds have been reformulated for improved compliance with international requirements and ingredient restrictions, which means that aquarists in countries such as Australia and Japan may now be able to benefit from this proven coral feed.
Coral Frenzy Powder is Now Available in 3 Different Sizes
45 gram powder - $18.99
90 gram powder - $31.99
180 gram powder - $59.99