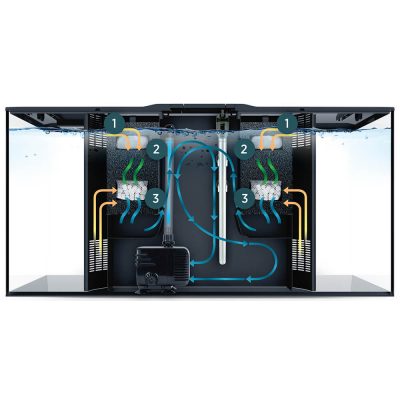 Fluval Flex Freshwater Aquarium Kit - 32.5 Gallons - Black
The Flex 32.5 US Gal. (123 L) makes an exciting addition to Fluval's bold curved aquarium series. It comes equipped with a mobile device operated Aquasky LED that offers total control over brilliant custom colors, multiple dynamic effects and a programmable 24-hour light timer. In addition, this all-new Flex includes a built-in filtration system with 2 independent multi-stage chambers for maximum cleaning efficiency.
----Email us if you are interested in having this shipped!!!----
32.5 L x 15.75 W x 15.35 H"

Mobile device controlled Aquasky LED operates via FluvalSmart App
Customizable, adjustable light spectrum (Color temperature ranges from 3000 – 25000 K)
Multiple weather effects – storm, lightning, cloud cover and more
24-hour programmable light timer mimics the natural cycle of the sun and moon
Optional space to add a second Aquasky LED (sold separately) – LED Strip (Item #14549), Driver (Item #A20431)
Powerful 3-stage filtration system
2 independent media chambers for maximum, superior water quality
2 oversized mechanical (foam); chemical (carbon); and biological (Biomax) media – all included
Twin output nozzles can be adjusted to create customized water flow
Hidden rear filter compartment provides separate media access
Convenient easy-feed door opening with option to add PF2 programmable feeder (Item #10786 – sold separately)
Honeycomb print camouflages water line
Custom cabinetry available (sold separately) – Black (Item# 14985), White (Item #14986)
For freshwater use only