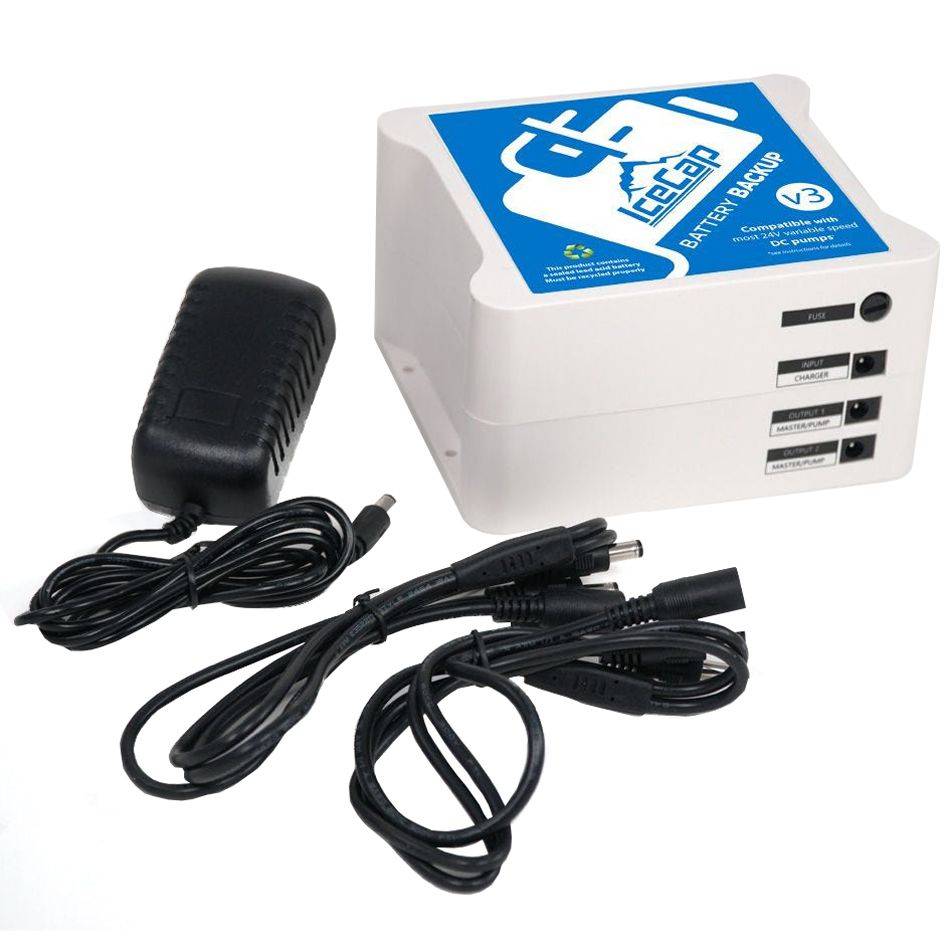 IceCap Battery Backup v3 for Aquarium Pumps IC-BTBK3
Keeps your pumps running during a power outage
Power outages will happen every now and then, and unless your system has a generator as a backup, the next best thing is a battery backup for your powerheads.  After a power outage, within as little as 2 hours dissolved oxygen levels can start to deplete, which can quickly result in a loss of your valued fish and corals.  By keeping water moving and encouraging gas exchange at the surface of the aquarium, days can go by without needing to worry about depleting oxygen levels in the tank.  With the IceCap Battery Backup, you can rest easy knowing even if you're not home when the power goes out, the battery backup will turn on automatically and keep your pumps running. 
The IceCap Battery backup system is compatible with most 12-24 volt DC powered pumps, most notably the MaxSpect Gyre and IceCap Gyre pumps, as well as the Reef Octopus Octo Pulse and VarioS pumps. 
Features
Compatible with most 12-24 volt pumps from brands like Maxspect, IceCap, and Reef Octopus.

Turns on immediately after a power failure to protect your aquarium

Connect two battery backups together to double the run time

Compact and attractive form factor easily mounts on a wall or aquarium stand

Get started immediately: power supply, pump adapters, and user guide are all included in the box

 
Compatibility
The IceCap Battery Backup works with a wide variety of DC pumps with the appropriate adapter. Below is a list of pumps that are known to be compatible with the Battery Backup.
Maxspect Gyre Pumps  (All Models)

IceCap Gyre Pumps including the IceCap Dual Pump WiFi Controller (NOT compatible with HYDROS WaveEngine)

Reef Octopus Octo Pulse Pumps  (All Models)

Reef Octopus VarioS Pumps  (VarioS-2 and VarioS-4 only)

 
Specifications
DC Charger: Input: 100V to 240V 50/60Hz |  Output: 27V 600MA
Main Unit DC: Output: 12V x 2.5A max |  Input: 27V 1A max
Fuse: 250V 10A 5x20mm fast blow
Capacity: 2.5Ah
Dimensions: 5.75"W x 5"L x 3.125"H