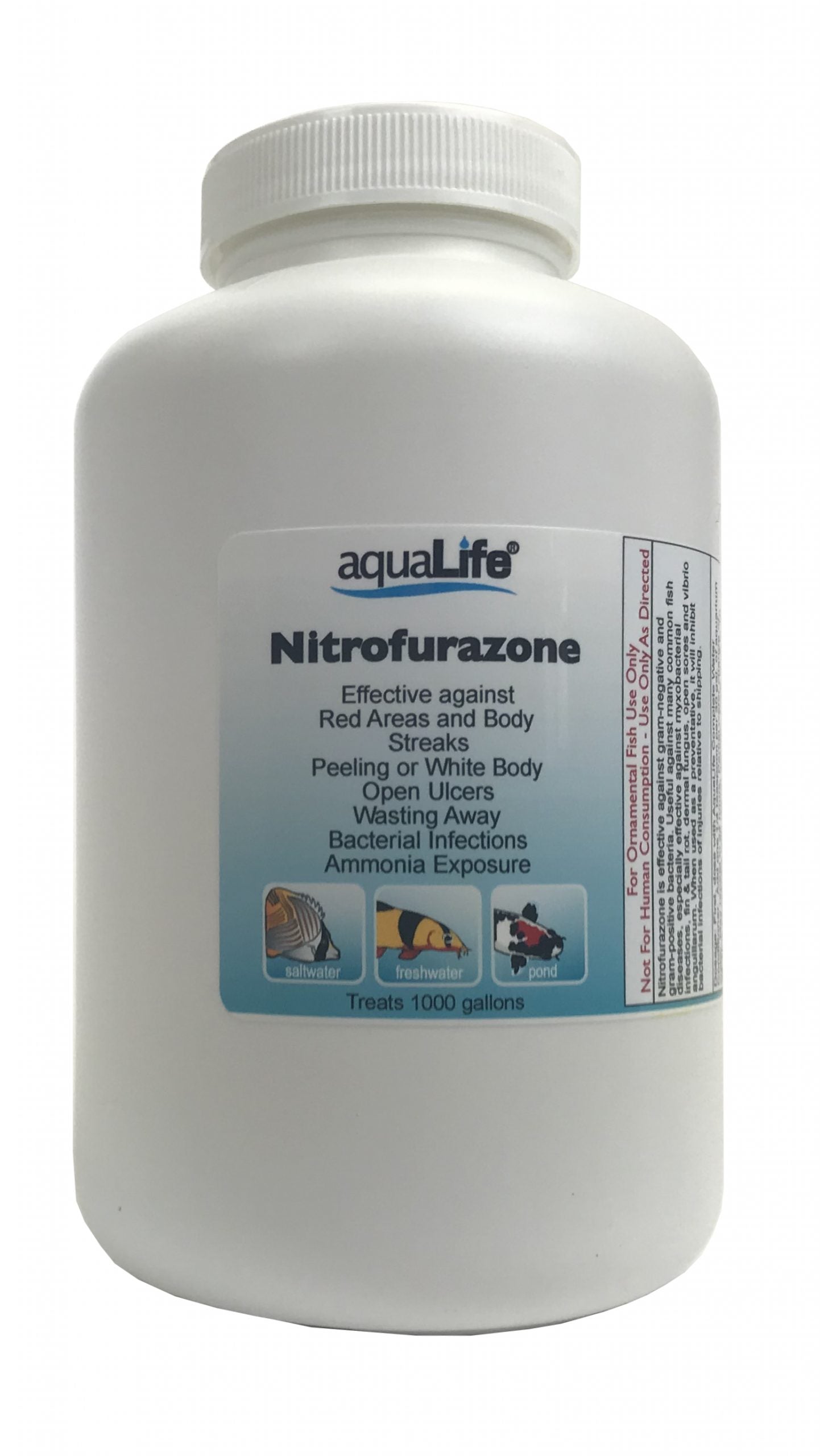 Aqualife Nitrofurazone - Treats up to 1,000 Gallons
Effective Against:
-Red Areas and Body Streaks
-Peeling or White Body
-Open Ulcers
-Wasting Away
-Bacterial Infections
-Ammonia Exposure
-For Ornamental Fish Use Only
-Not For Human Consumption – use only as directed.
Nitrofurazone is effective against gram-negative and gram-positive bacteria. It is useful against many common fish diseases, especially effective against myxobacterial infections, fin and tail rot, dermal fungus, open sores, and vibrio anguillarum. When used as a preventative, it will inhibit bacterial infections of injuries relative to shipping.
Directions: First, dose with AquaLife Complete Water Conditioner. Add 1/4 teaspoon per 30 gal. of aquarium water. May repeat in 24 hours. Partial water change of 25-50% is necessary with repeat dosage. Treat for 5 to 10 days. Dip method 189-756 mg per 10 gallons for 1 hour, and repeat daily for 10 days.
Antibiotics and treatments are always safest when used in a hospital tank. Monitor ammonia and nitrite and use AquaLife Complete Water Conditioner. Change water as needed. Not for fish used for human consumption.
Warnings: Can cause moderate eye irritation. Avoid contact with eyes, skin, and clothing. Wash hands with soap and water after contact. Keep away from heat and bright light. It is a violation of Federal law to use this product in a manner inconsistent with its labeling.
Keep Out of Reach of Children
-------We also have a 200 gallon bottle size, CLICK BELOW!!-------
Aqualife Nitrofurazone - Treats up to 200 Gallons | The Fish Room
If needed overnighted please email us for a shipping quote!!