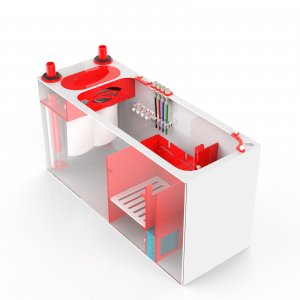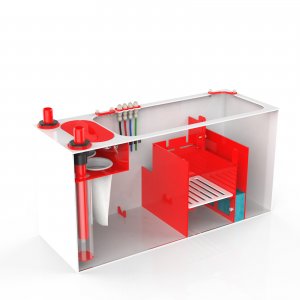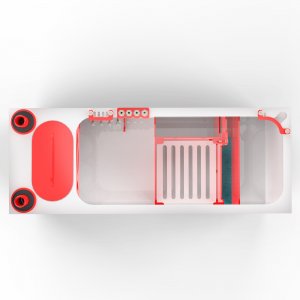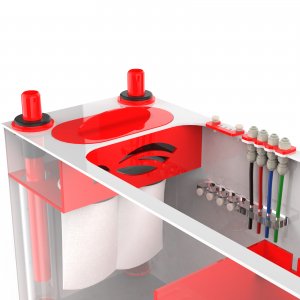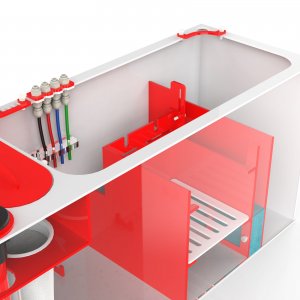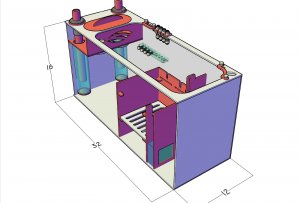 Pro Clear REDFLEX 4 In 1 Sump 200 - 32"x12"x16"
Up To 225G Tank - Flow Rate Up To 800 GPH - Dual Input
The Red Flex 4-in-1 is a convertible sump that can be easily converted from saltwater to freshwater. 
This sump features a modern red and white acrylic design.  Water flows through the two overflow ports, into our proprietary bubble diffusers and through the 4 inch 200 micron filter socks. 
Each sump includes an overflow panel where the water can escape into the sump if your socks overflow. The Red Flex is equipped with a dosing, probe and wire holders, easily maintained by the built in fastener. The 4-in-1 has its own Chemical Media Canal for the media of your choice.  Within the canal you have the option to use our unique Chemical Media Cartridges specifically designed for this area to house various forms for media.
In this sump, water flows from the skimmer chamber and into the chemical media canal. Once the water reaches this area, you have the option to have the water flow into the refugium section or straight into your return compartment via the adjustable flow gate. Each refugium has a built in frag rack with options for two positions. The refugium area is blocked off by a removable panel which can by detached to allow the water to enter the return area.
All sumps include flexible hoses, 4 inch Micron bags and the foam block sponge. (Chemical Media Cartridges are optional and not included)