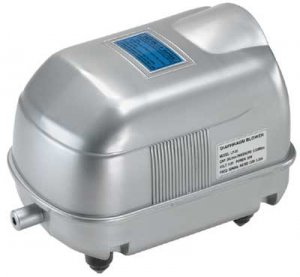 For pond and aquarium use
The Supreme AP-Series air pumps have been designed to satisfy the requirements of a multitude of water-related applications. These beautifully designed, environmentally friendly pumps can be used for:
Oxygenating outdoor ponds and water gardens
De-icing outdoor installations during harsh winters
oxygenating indoor water features
aerating single or multiple aquariums
All AP-Series air pumps operate on standard 110V electric and come with 6' power cords. They have been designed to operate efficiently with a motor that us non-oil lubricated. For outdoor applications, it is recommended that the water-resistant ABS plastic unit be enclosed with allowance for air circulation to protect it from the elements.
For ponds up to 10,000 gallons.  CL