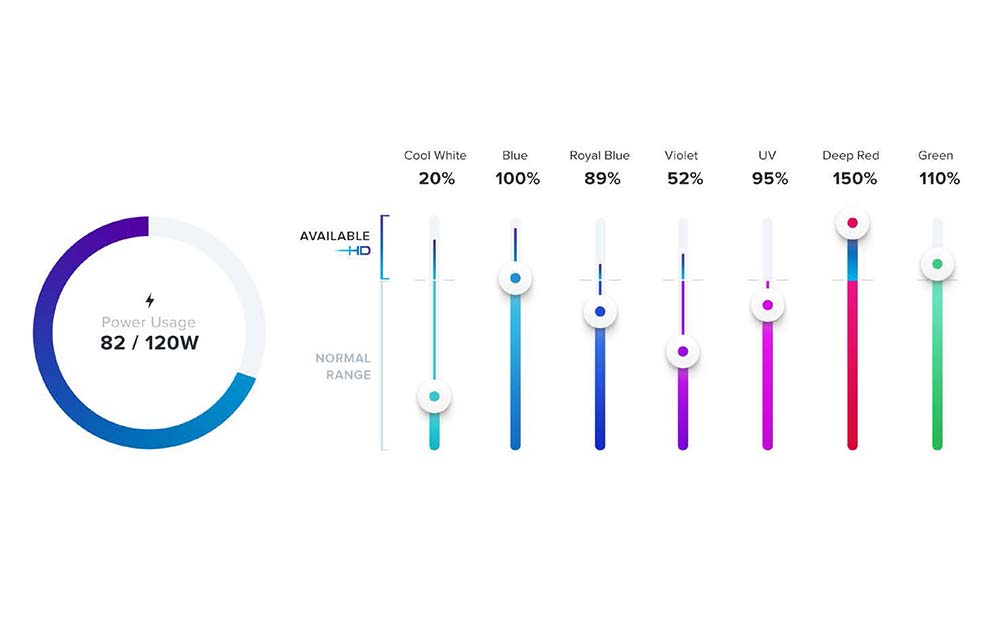 AquaIllumination Hydra 64HD LED Module - White
Design
The plastic construct of the new Prime and Hydra lineup benefits in two ways: better efficiency and better looks. The improvement to efficiency reduces the demands on active cooling for longer component life. Improvements to design a thinner fixture reduces their profile and presence over your aquarium. 
Resilient 
Design improvements were made to the new Prime and Hydras to make them more water resistant, meaning that they are more resilient in moisture rich environments. 
Moonlight 
A dedicated moonlight LED and channel has been added, so now you can control moonlight separately from the other channels allowing for simulation of the natural lunar color and intensity. 
Control 
myAI® app is free to download to control your lights simply and quickly with direct BLE connection through your smart device, Mac, iOS, PC and Android. This cloud-based service also connects to all other AI devices, but more options of control may become available in the near future for the new Prime and Hydras, so stay tuned! 
Optics and Output 
Referring to PAR, the output, color mixing and spread has all been improved. With more LEDs, providing a full spectrum is targeted with TIR lenses that shape the ouput of the light while improving efficiency. As a result, there is more color pop, a wider spread, and higher average PAR. The combination of LED placement and lens geometry help blend the light cluster, reducing the color separation.
The New Prime and Hydras share the same cluster of LEDs with the new optics.
HD 
The HD function of routing the power not being used by one channel into another is still a loved feature among the HD lineup - if it isn`t broke, don`t fix it, right? 
Mounting 
Mounting hardware as previously available for Hydra and Prime fixtures will work with the new version lights. The exception is the Hydra Flex arm which will require a different light bracket due to the size difference in the new fixtures. The Flex arm bracket will change with he new fixtures. Older flex arms being used to mount the new lights will need a new light bracket.  CL
Dimensions: 11.875 x 5.375 x 1.42in
New Feature Breakdown:
More LEDs
More PAR
More spread
Improved optics
Improved water resistance
Thinner form factor
Dedicated moonlight channel
More channels for a wider spectrum