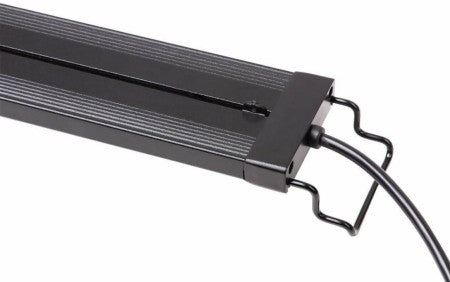 Aquatop SkyAqua LED Aquarium Light Fixture 6500K w/ 3 Position Toggle Switch 30-36"
The SkyAqua Series raises the bar for aquarium keepers by combining style and technology. Each specially engineered lighting system mimics the shimmer of natural sunlight, produces minimal heater offers a fanless design for pin drop silence and provides general illumination for your aquatic organisms. With their adjustable wire leg mounts, each SkyAqua LED light can fit on virtually any tank size for quick, low profile installation. These units are also suspension mount ready allowing you to position the light fixture exactly where you need it (hardware not included). 
Wattage: 24W
LED: W/R/B
Lumens: 450
Voltage: 110-240V
Frequency: 50/60Hz
For Aquariums: Fits 30"-36"
Color Temperature: White 6500K
Par: >50 at 12"
Wave Length: Red 660NM Blue 460NM