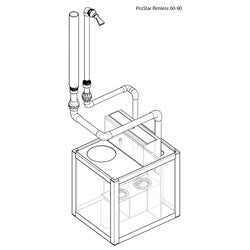 Pro Clear Prostar 90 Rimless Glass Aquarium w/ Stand & Filter - Black
Tank Capacity 63 Gallons - Total Capacity 76 - Black
This stunning rimless glass aquarium sits on a modern tempered glass fronted black cabinet with aluminum interior which bracing helps with stability. This unit is completely reef ready, along with a super large sump, keeping in mind the needs of the discriminating hobbyist.  Each system comes standard with sump covers helping to eliminate further evaporation and salt creep, there are cut outs for skimmers and drains into the sump. This aquarium is designed for saltwater or freshwater use. In addition, it includes sump filtration made of glass. This model comes standard with 3-4 inch filter socks.  Sitting on the sump, is an auto top off to replenish the water. (If you want to remove this and ad a larger top off container simply remove the container) The power cord and power center in standard with all systems, making this the cleanest display you've ever had. This makes a wonderful reef or freshwater display with plenty of room in the sump for all equipment.
Virtually everything you need to start is included:
The tank 

Sturdy aluminum stand with underneath storage cabinets

Full filtration/sump system with overflows

(2) 150 micron filter socks
Auto top off reservoir to combat evaporation
Not Included - light or pump.
Click Here For Plumbing Diagram