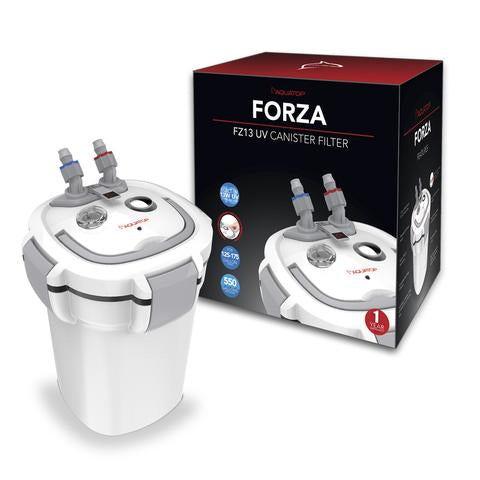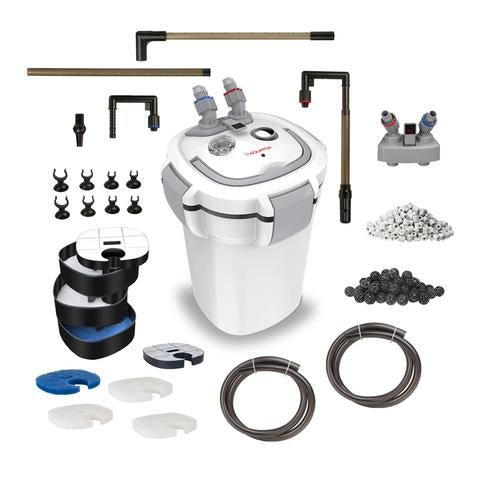 AquaTop FORZA FZ13 Canister Filter with UV Sterilizer - 550gph
Aquatop's FORZA Canister Filter Series with UV Sterilization delivers crystal clear aquarium water with the latest advancements in UV technology. These multistage filtration systems also include a patented revolutionary one pump EZ Prime button so your canister filter begins cycling with just one pump. In addition to biological, mechanical and chemical filtration, the FORZA 13 handles up to 550 Gallons per Hour (GPH) and has an integrated UV 13 Watt Bulb for added protection against harmful bacteria and unsightly algae.

All three models of the FORZA canister filter include an integrated replaceable carbon cartridge which is easily placed directly in the media tray, so it's no longer necessary to poor carbon into a tray or handle messy bags full of carbon. The FORZA Canister Filter Series incorporates a number of impressive features such as an optional surface skimmer on the intake, a handle for easy lifting of the barrelhead, a protective cover for the UV switch and a quick disconnect valve which is color coded, red for the inlet and blue for the outlet. As an added innovative safety feature, should the canister move 30 degrees in any direction, the UV will automatically shut off and protect your system. Welcome to the new age of UV filtration!
Features:
Multi-stage Filtration System w/ UV
Capable of Mechanical, Biological, and Chemical Filtration
White enclosure
Works for both fresh and saltwater tanks
Specifications:
Flow Rate: 550 gals/hr
Suitable for tanks ranging from 125-175 gal.
AC 110V
45 Watts
13 Watt UV Sterilizer
18 pounds
Max Head Height: 8'-0"
Dimensions: 12.5" x 12.5" x 17"
Vinyl Hose Inner Diameter (ID): 3/4"